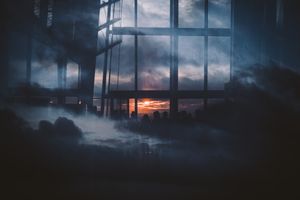 BIOGRAPHY
- SHORT DESCRIPTION -  
An acoustic-guitar-based singer/songwriter with Roots, Pop, & Americana song styling, Mark Croft is the classic 'triple threat'; a skilled guitar player, a powerful and dynamic vocalist, and a talented songwriter and entertainer. 
- FULL BIO -
Mark Croft is an award-winning singer/songwriter and acoustic guitarist who has always been unafraid to break the genre barriers.  Croft takes inspiration from a variety of musical styles and blends them into his own pop, roots & Americana based approach to songwriting, infusing soulful performances with infectious rhythms and unforgettable melodies.  A seasoned performer, Croft has been serving up exciting and emotional shows to audiences for more than a decade. His booming baritone vocals, finely crafted songs, and ability to navigate his six-string with superiority, has garnered him praise as the a classic triple-threat.
"He'll play the prettiest thing you ever heard, then do a 180 and start cranking on that acoustic like there's no tomorrow, creating a freight train of a groove that drives right through you.  It doesn't matter the genre, Mark can play it." – John Urban, Isthmus Magazine 
Croft began his musical journey at the tender age of six, plunking out melodies on his parent's piano. Recognizing his potential, his parents quickly enrolled him in lessons. He continued his study of the piano for more than a decade, composing some of his first original works while still in his teens. A self-taught guitar player, Mark's love affair with the acoustic began in college; rarely traveling without his guitar and practicing 3 to 4 hours a day. After taking a songwriting class in 2003, Croft began seriously pursuing music; honing his songwriting skills and regularly performing live. 
"Croft's skill as a rhythm guitar player distinguishes his music. His up-tempo strumming and rapid-fire chord changes fill his songs with energy." 
- Katjusa Cisar, Capital Times 
Since turning his attention to music full-time in 2005, Mark has claimed 1st place in the Midwest Song Contest and the Inaugural American Idol Underground Rock Contest, and was designated "Favorite Singer/Songwriter" by Isthmus Magazine's Reader's Poll. He's also garnered top-5 finishes in the Great Lakes Song Contest in 2011 and the Great American Songwriting Contest in 2012.  A twelve-time Madison Area Music Award winner, he was again honored in the spring of 2010 with five awards for his EP The Possibility of Disaster (Slothtrop Records, 2009), taking home "Pop Album", "Pop Song", & "Pop Artist" of the year, as well as "Best Male Vocalist" & "Best Music Video". Croft has shared the stage with a variety of well-known artists including Kelly Joe Phelps, John Eddie, Corey Smith, Noah Guthrie, and broadway & "Frozen" star, Idina Menzel.  Croft's tunes are being spun on the Clear Channel Radio Network, Pandora, college campuses, and Triple-A & non-comm. stations in the United States and Canada. 
In the fall of 2010, Croft released his latest studio album, Evening Flood, to rave reviews; raising his songwriting and studio work to a new level of sophistication. The CD features the rousing funk-infused single "The Gas Is On" written in the wake of the gulf oil spill and reflects on its global impact and aftermath. In a repertoire brimming with memorable pop singles, Local Sounds Magazine called the title track, "Evening Flood", "the best-written, most succinct pop song he's done yet", while his Top-40-Country-tinged, "Good Enough", "comes in a close second." Croft incorporates genres like southern funk ("If She's Gonna Shake It"), swampy blues ("One Mississippi"), gospel ("Amen and Hallelujah"), and gypsy swing ("The Crow and the Raven"), in the process; he demonstrates his versatility and maturity as a songwriter, storyteller and performer. Mark also recorded one of his favorite Peter Gabriel songs "Washing of the Water," which closes the album and will surprise many fans, old and new, as he gives a profoundly intimate and emotional performance of this moving song. Peter Gabriel himself, upon recently hearing Mark's version exclaimed, "Great version - wonderful voice". 
"Croft hit one out of the park with Evening Flood. It's not very often you find 10 songs on a CD of this caliber! [Evening Flood] shows his best work to date and deserves to be heard by the masses." 
- Andy Zielhi, Americana Gazette 
In November 2013, Croft followed Evening Flood with the release of his first live album, Live at Shake Rag Alley.  Recorded on July 20th, 2013 at the historic Shake Rag Alley Center the Arts in Mineral Point, WI, the album documents the performance of his acoustic quartet with band mates Robert Boyd (percussion), Dan Kennedy (Bass), and violinist extraordinaire, Jon Vriesacker.  Live at Shake Rag Alley contains 14-tracks and could easily serve as a 'best-of' album for Mark, featuring live recordings of several of his most popular songs, including the first official recording of fan-favorite "Molly Brown," and the new folk-pop single "Easy On Me." Also included in the track list is the previously unrecorded, smoldering blues-lament "Picking It Up," and Croft's melancholy interpretation of the Springsteen hit, "Dancing in the Dark."  In June 2014, LIVE AT SHAKE RAG ALLEY was honored by The Madison Area Music Awards for Folk/Americana Album of the Year. 
As someone who loves to perform live, Mark plays more than 120 live shows a year, and has taken the stage at a variety of prestigious venues across the country including festivals, theaters, and music clubs. Continuing to build on his professional music foundation as an exciting recording artist and gifted songwriter, Croft balances studio time with touring and performing live as a solo act, or with The Mark Croft Band. 
 "Croft can hold his head high on the basis of his solid reputation, four fine albums, and a loyal fan base…" 
- Local Sounds Magazine 
"This is one of the best musicians we've heard in a long time. Definitely check out his music."  
- Roy Elkins, BROADJAM Founder & CEO 
"[He] isn't afraid of strong rhythms, which is part of the reason his polished singer-songwriter material is ready for prime time. Funk, blues, folk - it's all here. Croft is NOT just another guy with a guitar in the corner of a coffeehouse." 
- Isthmus Magazine